I have two favorite foods, pizza, and enchiladas. If they were the only food available, I could eat them both every day and be happy. But when you follow a low carb diet, those are two types of foods that are notoriously full of carbs.
I've managed to find a delicious low carb pizza recipe, and now I've come up with a low carb chicken enchilada casserole that will satisfy my cravings for enchiladas and Mexican food.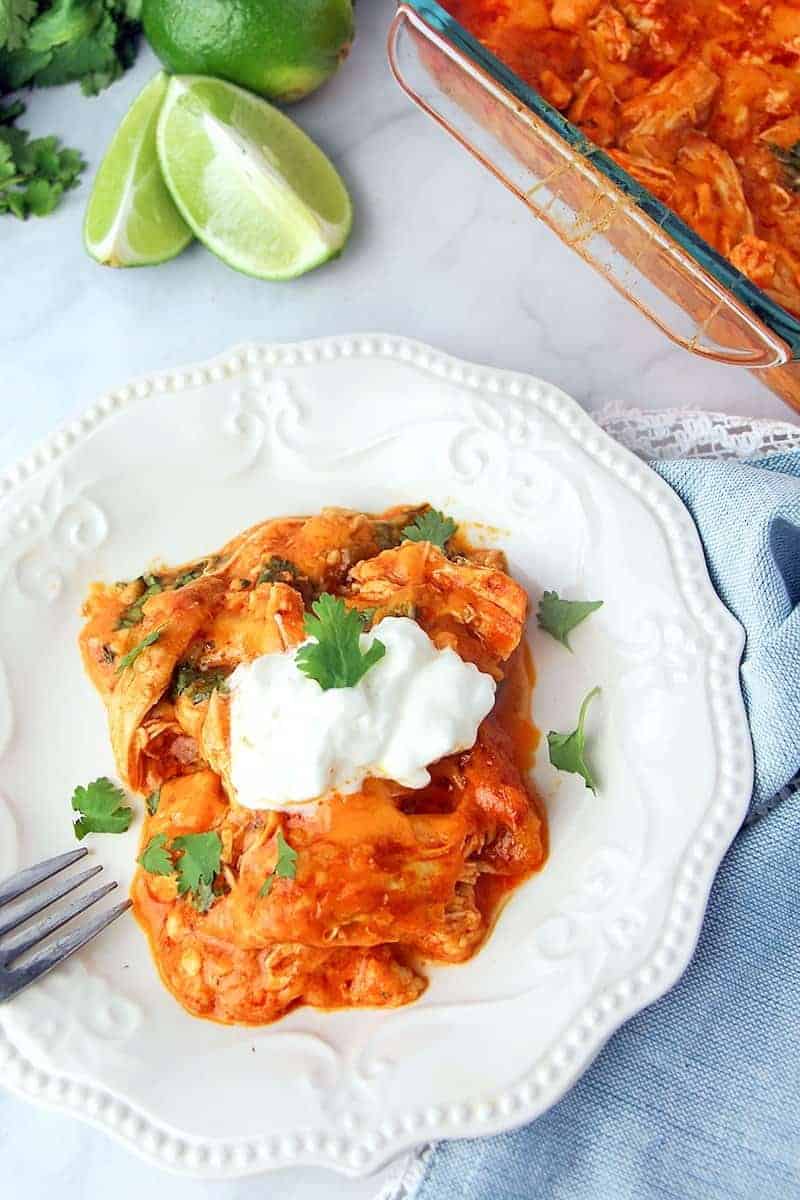 This recipe is based on the America's Test Kitchen Chicken Enchiladas recipe. They test their recipes 30-70 times and have at-home testers that make sure the recipes are easy to follow and understand. So you know their recipes are foolproof.
For the low carb chicken enchilada casserole, I removed the tortillas and added some extra cheese. You can add additional ingredients depending on what you like in your enchiladas, like avocado, green onions, lettuce, tomato, whatever your little heart desires. You can add black olives, use monterey jack cheese or even add black beans if you don't mind some extra carbs.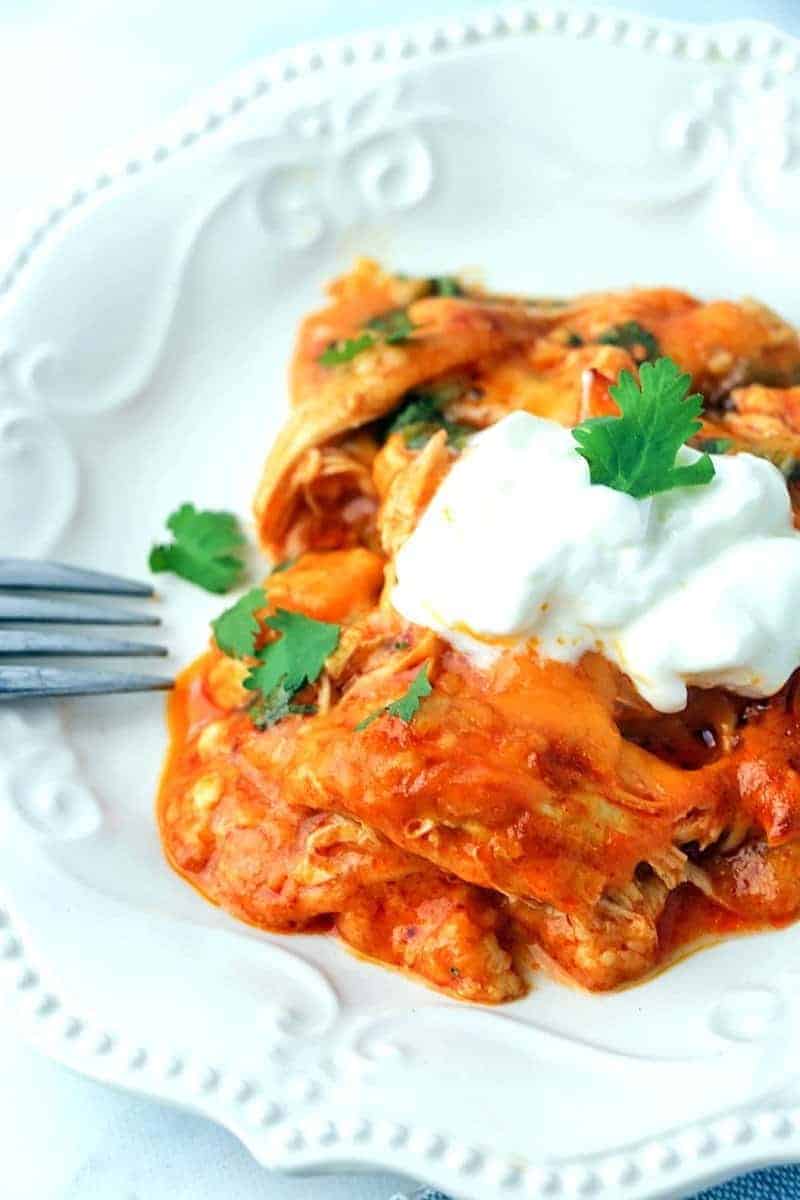 Low Carb Chicken Enchilada Casserole
(scroll down for printable recipe)
This recipe is pretty quick and easy to cook, though it does require a bit of prep time for the chicken. Maybe next time I'll try and make some low carb tortillas to achieve a more traditional dish.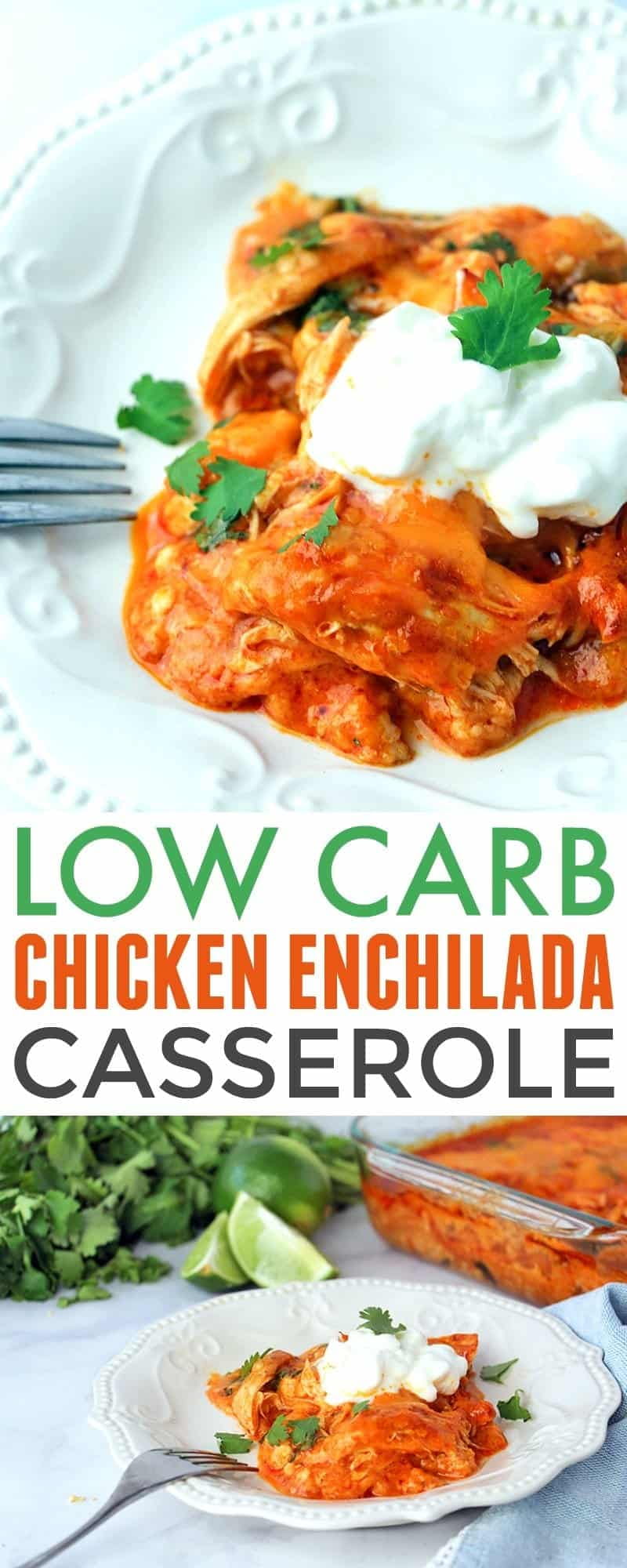 I calculated the nutrition information for this recipe. I'm not at all comfortable with providing this information because it really is all hinging on the enchilada sauce you choose.
That is where the carbs are coming from. Some may also have sugar as well though mine didn't show up with sugar content.
I HIGHLY recommend that you use MyfitnessPal or some other calculator to create a recipe and calculate it with the ingredients that you actually use.
And if you ever need to convert your ingredients from other measurements, check out this free printable that can tell you how many cups in a quart and other cooking unit conversions. It presents in a graphical way making it super easy to understand (it's in writing too in case you aren't a visual person).
If you need another dinner idea for this week, my low carb creamy Bolognese sauce with zucchini noodles is delicious! Watch the video below for more info.
Low Carb Creamy Bolognese with Zucchini Noodles (zoodles) how-to ketogenic recipe. Brief intro and demonstration of how to use the Ninja® Intelli-Sense™ Kitchen System with Auto-Spiralizer™ to create a delicious low carb bolognese sauce with zucchini noodles.
LOW CARB CHICKEN ENCHILADA CASSEROLE
INGREDIENTS
1

 

lb.

 

boneless

 

skinless chicken breasts trimmed & pounded if necessary

Salt & pepper

1 1/2

 

cups

 

of enchilada sauce

 

store bought or from scratch

1

 

cup

 

finely crumbled queso fresco or feta cheese

1

 

can

 

(4 oz) green chiles (chopped)

1/2

 

cup

 

minced fresh cilantro

Olive oil spray

 

or you can use olive oil in a little bowl with a brush

2

 

cups

 

shredded cheddar cheese

Lime wedges

 

optional

Sour cream

 

optional
INSTRUCTIONS
Pat chicken dry and season with salt and pepper.

Combine the chicken and enchilada sauce in a medium saucepan & simmer for 10-15 minutes over medium-low heat. Then flip the chicken over, cover and cook for an additional 10-15 minutes until chicken reaches 160-165 degrees with an instant-read thermometer.

Remove chicken from pan and shred into bite-sized pieces. Combine shredded chicken, the enchilada sauce, queso fresco, chiles and cilantro in a bowl. Add salt and pepper if desired.

Spray a square casserole dish with olive oil (or use a brush) and coat the entire bottom and sides.

Evenly spread 1 cup of shredded cheddar cheese on the bottom of the dish. Add the chicken mixture, then add the other cup of cheddar cheese on top. Cover with foil and bake for

about

10 minutes. Remove foil and bake an additional 3 to 5 minutes to melt the cheese.

Serve with optional lime wedges and optional sour cream.
RECIPE NOTES
Nutrition information shown is an estimate and is not to be assumed to be accurate. If accurate information is required for your diet or lifestyle, please calculate the nutrition yourself using a tool you trust.
Nutrition Facts
Low Carb Chicken Enchilada Casserole
Amount Per Serving
Calories 406
Calories from Fat 216
Low Carb Ham Roll Ups with Ricotta Cheese…
Organic Grocery Shopping Online with Peapod
Airfryer Recipe – Sriracha Cauliflower Appetizer Bites
Chicken Chili Slow Cooker Recipe
Coco Java Pudding {grain-free, paleo}
No Bake Low Carb Pumpkin Cheesecake Recipe
Simple Whole Wheat Bread Machine Recipe
Keeping Produce Fresh is Critical for a Healthy…
Dark Chocolate Bacon Bark with Sea Salt Recipe
Easy Pumpkin Spice Coffee Creamer Recipe
Low Carb Ham Roll Ups with Ricotta Cheese…
Organic Grocery Shopping Online with Peapod
Airfryer Recipe – Sriracha Cauliflower Appetizer Bites
Chicken Chili Slow Cooker Recipe
Coco Java Pudding {grain-free, paleo}
No Bake Low Carb Pumpkin Cheesecake Recipe
Simple Whole Wheat Bread Machine Recipe
Keeping Produce Fresh is Critical for a Healthy…
Dark Chocolate Bacon Bark with Sea Salt Recipe
Easy Pumpkin Spice Coffee Creamer Recipe