EGG ROLL IN A BOWL | PALEO
This Egg Roll in a Bowl recipe is loaded with Asian flavor and is a Paleo, Whole30, gluten-free, dairy-free and keto recipe to make for an easy weeknight dinner.  From start to finish, you can have this healthy and low-carb dinner recipe ready in under 30 minutes!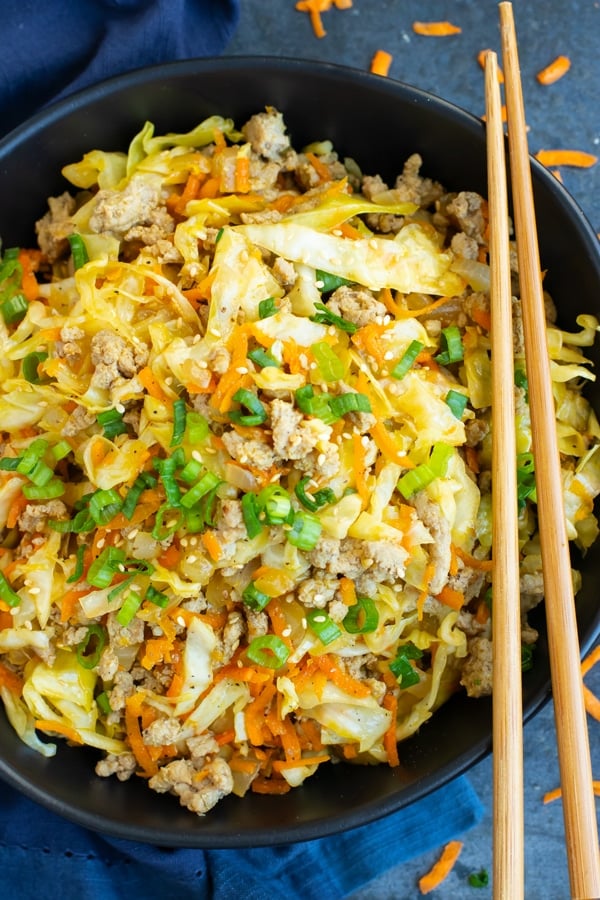 FIGHTING OVER AN EGG ROLL IN A BOWL
Every now and then I will make a recipe and I know it is a success within the first 24 hours.
WANT A FREE 1-WEEK
DINNER 

PLAN

?
Don't miss out on this FREE meal plan complete with an
organized grocery list and prep-ahead guide!
I promise I'm not being cocky.  There is a method to my madness to prove this theory.
How exactly do I know?
Cohl and I wage leftover war against each other and fight to the egg roll in a bowl finish.
Cabbage is flying around as we elbow our way to the refrigerator for one last bite.
Ok, I'm getting a little dramatic here, but for real… these egg roll in a bowl leftovers caused quite the stir.
Not to mention this simple recipe actually tasted BETTER with time!
All of the delightful Asian flavors melded together in a harmonious medley of low-carb egg roll-y bliss.
So what was my solution to this leftover war?  Make another batch of this egg roll in a bowl recipe… because it takes less than 30 minutes!!
CHOOSING AN EGG ROLL IN A BOWL OVER AN EGG ROLL
Who needs the egg roll wrapper when you have all of the goodness that's inside of the egg roll in one enormous bowl?
I don't know about you, but I sure do feel crummy after eating an egg roll.  Maybe it's the grease the egg roll is fried in or the gluten-filled wrapper.
But did you know all of the ingredients INSIDE of the egg roll are actually pretty good for you?
So let's take all of those nutritious ingredients out, toss 'em around in a skillet, and make an egg roll in a bowl!
INGREDIENTS FOR AN EGG ROLL IN A BOWL RECIPE
So what exactly are those nutritious ingredients inside of an egg roll?
Pork: eh!  Ok, not super healthy, but we actually use a lean ground turkey in this recipe instead!
Cabbage: Did you know that the large majority of an egg roll is made up of cabbage?
Carrots: Oh yes, an egg roll in a bowl would not be complete without this nutritional powerhouse.
Ginger + garlic: the traditional, and albeit necessary, flavors that pack an anti-inflammatory punch.
Soy sauce: to make this recipe Whole30, Paleo and keto friendly we use liquid coconut aminos, instead!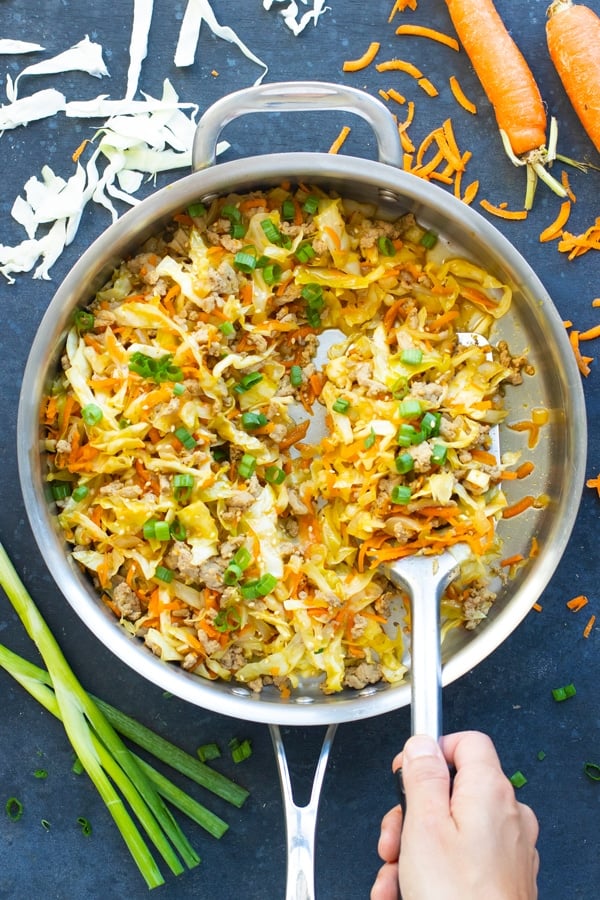 HOW CAN YOU EVOLVE THIS EGG ROLL IN A BOWL RECIPE?
There are a few things you can change up when it comes to making this egg roll in a bowl recipe:
Feel free to use different varieties of cabbage.
Ground beef, turkey, or pork all work great in the recipe.
If you're not on a Paleo, keto, or Whole30 diet you can use regular gluten-free soy sauce or Tamari instead.
Load it up with even MORE vegetables.  Chinese broccoli, zucchini, and squash would taste great in here, too.